With the UK leaving the EU growing ever closer, Businesses are still wondering how is this going to affect them.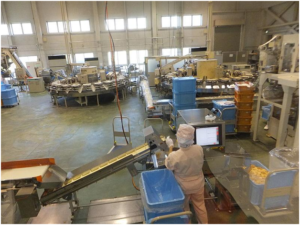 In the case of the food manufacturing sector, there is perhaps more to consider than in other areas of industry. This is not least because a majority of the UK's food supplies are imported, a high proportion from the EU.
Imported labor

Around 40 percent of the UK's fruit and vegetables are imported from the EU. Once they arrive in the UK we use a clever system called a vacuum conveyor that uses a high-pressure tubing system that moves food from one area of the warehouse to the next.  This is efficient, safe and hygienic for the food and the people that will be eating it. There are some companies that would really benefit from this kind of technology and some that are really doing well such as aptech.uk.com/pneumatic-conveying-systems/vacuum-conveying/.  This is unlikely to change in the short term, of course, even with Brexit, as it represents a major market for the suppliers.
More concerning, perhaps, is that much of the labor used within the UK to pick crops and pack and process food in factories comes from the EU. There are around 150,000 seasonal jobs, many filled by workers from Eastern Europe. While those permanently resident in the UK would have their right to stay protected under the Vienna convention, there would be a long-term effect on those who travel to the UK for part of the year to work and also on the available pool of labor in future years.
In terms of manufacturing, we could potentially see companies moving their operations elsewhere. While this might see a boom for food machinery auctions, its effect on the wider food industry is less rosy.
Food legislation
The other factor to consider is that much of the legislation governing food production and food safety have originated in Brussels since joining the EU. We have all heard the jokes about butter mountains and wine lakes, but the EU has a major influence on the way in which our food is produced and sold.
Much of this is now tied into UK law, of course, and it won't change overnight. Again, any likely effect will be seen in the long term. This is a two-edged sword. While we would be free to apply different rules to import and export from elsewhere, for example, we would also need to stick to some EU rules to maintain our exports to Europe. There is no doubt that a Brexit will have a major effect on the food industry.